School Meals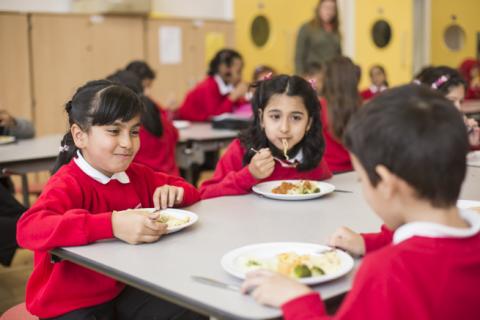 Our catering provider is Chartwells. As the UK's largest food service provider, they offer a seasonal menu full of delicious and nutritious dishes.
Each day there are at least 2 main meal choices, or instead children may choose a jacket potato with either tuna, cheese or baked beans.
Freshly baked bread is available daily.
2 dessert options are offered, one variable option and fresh fruit or yoghurt.
Children may choose one main meal option and one dessert option.
Click here to see the current menu.
Lunches are free for all children from Nursery to Year 6.
Allergies and special diets
We provide halal meals and vegetarian options as well as individual menus for children with specific dietary needs.
Please let the school know any dietary requirements your child may have. You will be asked to complete Chartwells Special Diet Request form and return it to the school office along with supporting medical evidence. Chartwells will then work with you to design a menu that is suitable for your child.
Here is the latest Halal certificate:
halal certificate 2023 24 ims of smithfield 1 .pdf
Free School Meals for children
All children across the school are now entitled to free school meals. This is called universal free school meals (UIFSM). This was extended for KS2 children in January 2023 and Nursery children in September 2023.
Free School Meals - Income Related Free School Meals (IRFSM)
You can claim free school meals for each child who attends school if you receive one of these benefits:
Universal Credit with no earned income or with net monthly earnings less than £616.67
Income Support
Income based Jobseeker's Allowance
Income related Employment Support Allowance
Support under Part VI of the Immigration and Asylum Act 1999
The guaranteed element of State Pension Credit
Child Tax Credit - as long as you have a yearly household income of less than £16,190 (as assessed by HM Revenue and Customs) and do not get Working Tax Credit
Working Tax Credit run-on (paid for 4 weeks after you stop qualifying for Working Tax Credit)
It is important you make a claim for free school meals even if your child has packed lunches, as the Government will still give the school additional funding (Pupil Premium) if they are eligible. We use this money to buy resources, employ teachers and run free after school clubs. It also means you will be provided with supermarket vouchers during the holidays to cover the cost of your children's meals.
Click here for the link to apply for Free School meals online. If you need support to do this, please see a member of the SLT. Please note, you will need an email in order to do this.
Packed Lunches
Children also have the option of bringing a packed lunch to school. We ask parents to commit to school meals or packed lunches for a full term and do not 'chop and change' between the two.
We are a healthy school and ask that packed lunches are healthy lunches. We actively discourage fizzy drinks, sweets or crisps.
We are also a nut free school due to several children having a severe allergic reaction to nuts. Please note - this also includes peanut butter and Nutella. Do not let your child bring any nut products into school please.
Children in nursery and reception children receive a carton of milk each day free of charge. In addition, all children are offered a piece of fresh fruit each day.
Theme Days
Throughout the year, Chartwells design special menus to promote food around the world. These will be displayed here and shared with the children when they are available. Please note that these menus are not compatible with allergen menus. If you child is on a specific allergy menu, they will need to remain on this.