Remote Learning Gallery
The Gateway Chromebook Roll-Out Programme!

Although the term started in a way that we did not expect, we are very proud of the way that our children have responded to the various challenges of home learning. I am now delighted to tell you that every pupil in the Academy from Reception through to Year 6 has been issued with a Chromebook, and would like to share with you some of the amazing work pupils have been able to submit.
Last year during 'lockdown', only 25% of the children who attended Gateway were able to access online learning resources regularly. Most children relied on printed versions. This meant that children had to wait for their teachers weekly wellbeing call to receive feedback and help with their work.
This time during the current "lockdown", we have seen the percentage of children accessing our daily 'live learning' lessons and the online learning resources posted via google classroom and Seesaw, increase every week. Our children now receive daily feedback on their work and, most importantly, guidance when they need help.
This is because children, from Reception to Year 6, can now borrow a Chromebook, and means that everyone can take part in taught 'live learning' lessons and view pre-recorded lessons. Children are able to share their work with their teachers and teachers can give feedback and guidance to children.
To view a breakdown of the percentage of children who attend 'live learning' lessons each week, click on the link below
We could not have achieved this without a number of very generous donations. BNP Paribas responded to our appeal for funds with an extraordinarily generous donation and, together with donations from the Alan and Sheila Diamond Charitable Trust and the John Laing Charitable Trust, we have been able to buy 505 Chromebooks and 21 trolleys with the remaining Chromebooks being received from the Department for Education and the Westminster Youth Foundation.
Below, you can see pictures of Mrs Cleary and Mr Ajban preparing the Chromebooks to be signed out to children.
.
We have been using Chromebooks for about 3 weeks now and it has been amazing to see how they have transformed our children's learning.
Staff have been so impressed by the speed in which children, and indeed parents, have mastered all the new technology. We appreciate this can be unnerving at times but everyone has fully embraced the new ways of working and have shown great patience and ability when faced with any technical blips! We are, as always, grateful for your support. It is now the perfect time to celebrate all our successes by sharing some of the learning that children have completed so far.
Click on the headings below to see more information on each subject
Singing Assembly
We have already made great strides going forward with home learning. We are now developing our offer even further and have found a way to move our singing assemblies on-line. Our music teacher from the Bi Borough, Ms Allen, together with our own Ms Lattimer, will be leading live singing sessions on Mondays for different year groups.
The times are:
Year 1 - 1pm

Year 2 - 1:30pm

Year 3 - 2pm

Year 4 - 2:30pm
Getting help
If your child is having trouble accessing remote learning via their Chromebook, please email itsupport@gsuite.gateway-academy.co.uk and a member of the Gateway team will be in contact to help.
We have made videos and 'help guides' based on the common problems that children have. These can be accessed via the Online Learning Tab - Home Learning Help for Parents.
In this area of the website, you will find the details of our remote education plan. There is also a Story Time link . Here, the children can find videos of their teachers' reading their favourite stories aloud.
LEARNING OUTCOMES FROM NURSERY
Nursery children have been very busy during lockdown. Click here to see what they have been learning.
Nursery have been finding out how materials can change.
Aaron made a delicious Pizza. The melted cheese looks delicious!

Kenzy melted cheese when he made cheese on toast.

Hassan made ice. He said it was cold and hard.
Some children have been playing shops with their family.
All of the children have been practising their drawing and writing skills.
.
.
.
LEARNING OUTCOMES FROM RECEPTION
In project work, Reception have been finding out about dinosaurs.
Some of the children made their own fossil dinosaurs...
In Maths, they have been finding out about 2D shapes.
Some children have been practising writing number sequences.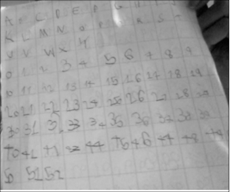 LEARNING OUTCOMES FROM YEAR 1
Year 1 have been learning how to stay fit and healthy. Khaira learnt about the different food groups. Zaid and Eimi drew pictures of their favourite healthy meals. They also learnt how important it is to exercise and stay clean.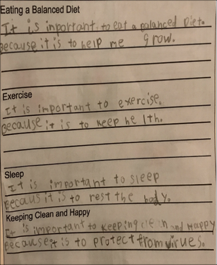 .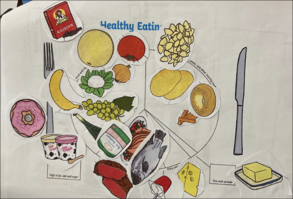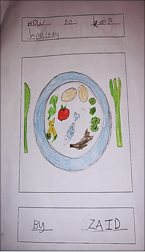 .
Other children shared pictures of themselves making healthy sandwiches.
.
.
Ertugrul learnt the names of the different bones in his body and then made his own skeleton.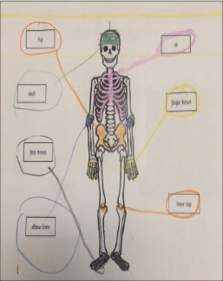 LEARNING OUTCOMES FROM YEAR 2
As part of their project work, Year 2 have been learning about St Paul's Cathedral. Some children built models.
.
They have also been busy writing stories and sharing them with rest of the class via their Chromebooks.
Some of the children in Year 2 are accessing lessons from abroad. This story comes all the way from Morocco.
Samiul writes wonderful stories. He used adjectives, conjunctions and interesting openers as tools to engage the reader.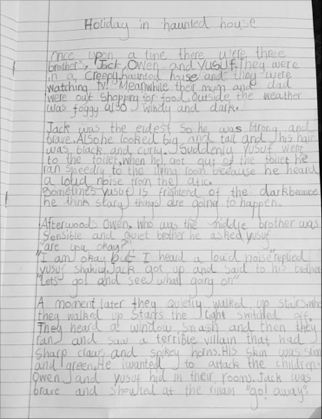 Suleyman drew illustrations to accompany his story.
In Art, the children have been learning about Matisse. The children have created their own pieces of art in the style of Matisse.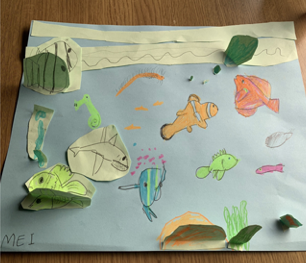 .
.
LEARNING OUTCOMES FROM YEAR 3
In Year 3, the children have been writing about home learning.
Zahraa has made improvements to her writing. Well done Zahraa!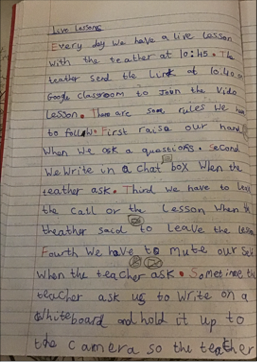 .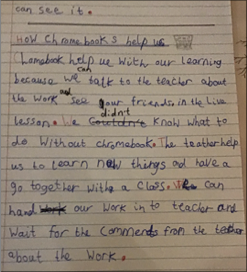 Using the Chromebooks, the children get to work together and see their friends every day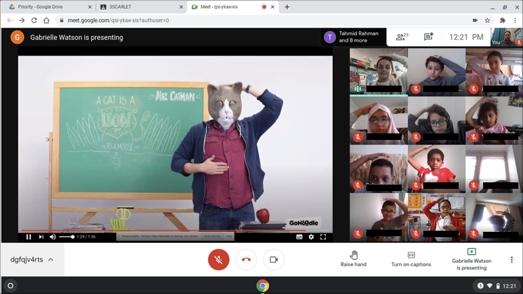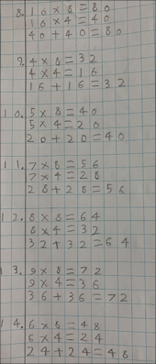 Bilal has been working hard learning number facts.
LEARNING OUTCOMES FROM YEAR 4
Here is a presentation from Year 4 explaining how the Gateway learning toolkit has helped them with their home learning.
Year 4 have been learning how to be persuasive and in History, they are learning about the Romans. Last week the children pretended to be a villager persuading the other villagers to work together and come up with a plan to outsmart the Roman invaders. I think you will agree Hamza has been very persuasive!
Year 4 have also been finding out about Spain. Using their Chromebooks, Hamza and Aleeza were able to share what they found out.
LEARNING OUTCOMES FROM YEAR 5
History
In History, the children used measurement and scaling techniques learnt in their art lesson to draw a correctly proportioned portrait of their favourite Tudor queen or king. They started by sketching the dimensions and scale of their chosen Tudor portrait painting. Then, looking closely at the details, they sketched in the subject's features and clothing. Well done Delila.
Poetry
Year 5 have been holding a bi-weekly poetry contest on Google Classroom. The children submit a poem based on the theme of the week.
Last week, the poetry theme was Nature and the winners were:
1st place - Latifah

2nd place - Omar

3rd place (joint) - Zara and Bayan
Here is the winning poem – well done Latifah, its brilliant!
Sumaiaya is the latest poetry competition winner.
Writing
Using their planning sheets from the previous lesson, the children wrote a build-up and dilemma for their own Robin Hood story. They included modal verbs, verb and adverb pairs, adjectives and brand, newly learnt castle vocabulary in their writing. They then also up-levelled our work by including an appropriate simile that they had planned in a grammar task the day before.
Art
In Art, Year 5 have been studying portraits. Using their Chromebook camera, the children took a self-portrait. They looked carefully at their faces and the relative positions of features. They used this photo to draw a self-portrait, making sure that the scale and features of their faces were accurate.
PSHE
Malik produced a lovely piece of writing in PHSE on equality at Gateway.
LEARNING OUTCOMES FROM YEAR 6
In Literacy, Year 6 have been writing newspaper reports.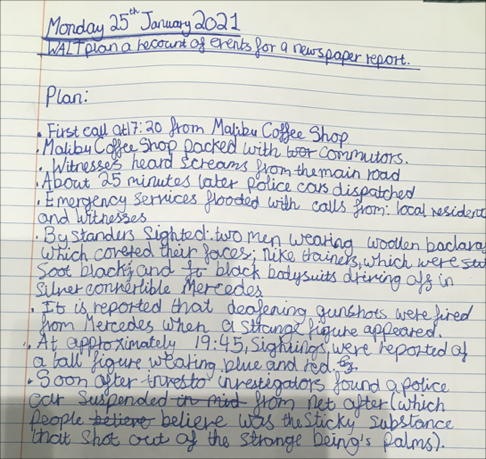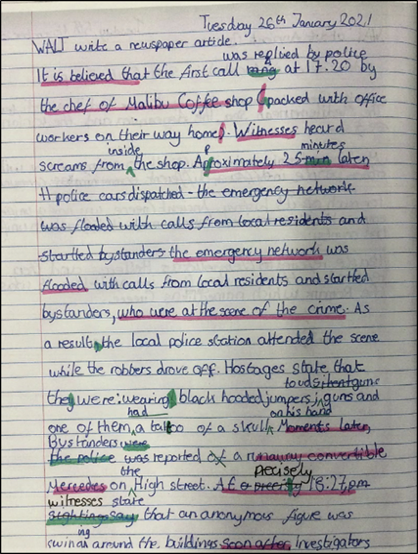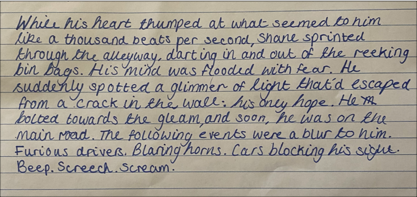 Here is some wonderful artwork on landmarks.
.

.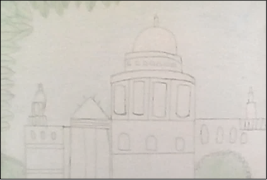 In maths, children are uploading photos of their working out onto Google slides in Google classroom.

.