English
Curriculum Intent
'The most important gift a school can give a child is the power to read.'

OFSTED, READING BY SIX. HOW THE BEST SCHOOLS DO IT, 2009
Quality texts lie at the heart of our curriculum. We believe that 'It is through being immersed in quality literature that children begin to realise the power of words and imagination in making stories come alive.' (Meek, 1998). The wide variety of texts we use across each year group not only underpin children's learning in reading, writing, speaking and listening, but enhance and underpin learning across the wider curriculum.
Our aims are that the English curriculum will:
ensure that all children make sufficient progress to meet or exceed age-related expectations

enrich children's reading experiences through immersing them in quality literature

ensure children are able to read easily, fluently and with good understanding

provide consistent and progressive phonics teaching in the early teaching of reading

promote reading for both pleasure and information

enrich children's vocabulary

develop understanding of grammar and knowledge of linguistic conventions for reading, writing and spoken language

ensure children are able to write clearly, accurately and coherently, adapting their language and for a range of contexts, purposes and audiences

ensure the continual development of pupils' confidence and competence in spoken language and listening skills

develop an appreciation of our rich and varied literary heritage through the celebration of quality texts across a range of genres, including a balance of old and new classic texts, poetry, non-fiction across the curriculum, stories, rhymes and new and popular authors

set ambitious expectations for reading at home
The Curriculum
At Gateway Academy, the teaching of English is approached through all curriculum areas, with links being made with other subjects. We follow the National Curriculum English Programmes of Study for Key Stages 1 and 2 (2013) and the Communication & Language and Literacy sections of the Curriculum Guidance for the Foundation Stage.
You can read the English overview for the different year groups below:
Years 3 and 4 English Overview
Years 5 and 6 English Overview
Appendix 2: Vocabulary, grammar and punctuation
READING
Our policy for teaching reading forms a key element in the teaching of literacy at Gateway. At Gateway we support children in the transition from learning to read to reading to learn. This goes hand in hand with encouraging all children to see themselves as readers and to value books as a source of pleasure and enjoyment as well as for information. Children are supported to develop a positive approach to reading and value this as a lifelong skill.
Guided Reading, whole class text reading and skills-based reading lessons are integral aspects of all learning opportunities in literacy. It is our belief that children need to be capable and fluent readers in order to become capable, fluent writers and access the wider curriculum with confidence.
Early Years Foundation Stage (EYFS) and Key Stage 1 (Years 1 and 2)
At EYFS and KS1 we recognise the importance of developing children's speaking and listening skills to the development of literacy skills. The teaching of early reading recognises the importance of phonics. Daily discrete phonic sessions ensure that all children can confidently and fluently decode words. Children take part in weekly guided reading lessons where teachers can target ability groups for children, teaching specific skills. This in an opportunity for children to apply their phonic knowledge to books which are closely matched to their current phonic stage.
Key Stage 2 (Years 3 to 6)
Literacy, especially in upper KS2, is heavily weighted to the learning of reading skills which then in turn can be applied to their writing skills. Children are grouped according to their individual needs and taught the full range of skills that they require to decode and comprehend a range of texts as well as respond to the texts with insight.
Reading is taught discretely but also applied across the curriculum in all subjects and in a variety of contexts. Children have access to a wide variety of resources. We have a fully stocked library which covers many different genres. Our librarians work very hard to ensure titles are relevant and the children are interested in reading them. Reading skills are applied in all curriculum subjects at Gateway. The high profile of reading is reflected through our book corners, treasure chests and range of books in the classrooms and throughout the Academy.
You can read the Academy's Early Reading Policy here.
You can read the Academy's Reading Policy here.
You can read the Academy's Reading Progression document here.
WRITING
We recognise that writing is a complicated process and therefore, in order for pupils to succeed, our planning provides a range of scaffolds to support success. These scaffolds include talk for writing, drama and role play, embedded ICT, writing for a range of purposes and audiences, explicit grammar teaching in context, exposure to high quality texts, visual and language scaffolds as well as the systematic teaching of spelling and handwriting.
Some time ago we introduced 'Big writing' across the whole school. Big writing provides pupils with an opportunity to write at length, applying subject knowledge in context across the wider curriculum and with consideration of audience and purpose. Most importantly, it provides the motivation to want to write, with increased independence and confidence, creating a positive ethos for writing.
We are committed to encouraging and developing pupils to be confident and enthusiastic writers. Redrafting, editing and publishing pieces of writing allows pupils to develop, refine and extend their writing abilities, allowing time for craftsmanship and a high-quality outcome to be produced.
The writing checklists below give you an indication of the areas your child is working on at school. You may wish to use these overviews as a guide to support your child at home.
You can read the Academy's Writing Progression Document here.

Recent Projects
Poetry Slam a huge success!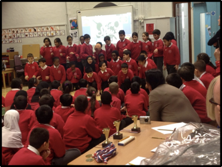 This week we had our very first Gateway Academy Poetry Slam. Staff and children had worked very hard to learn and recite poetry by heart. The poems were performed in front of a large audience of children, teachers, parents and governors.
The governors had the very difficult job of judging the competition and deciding who would be the winners this year. Thank you to everyone who joined in and made the day such a success.
Meeting Famous Authors
S.F Said
The children in Year 4, 5 and 6 met the published author. S.F Said, who has written several books, and came to talk with the children about how to become a writer. The children found out about what inspired him to become a writer and discovered that even he needs to edit his work (he wrote 17 drafts of, 'Varjak Paw' until he thought it was good enough!) All of the children in Year 4 and 5 received an autographed bookmark from him
Lawrence Prestidge
Last week we had the privilege of meeting the famous author – Lawrence Prestidge. Many of us remembered a visit from two years ago so it was very exciting to see how busy he had been writing two new books.
He read a poem from his newest book – it was very funny! Lawrence was proud to announce that his second book, Terror at the Sweet Shop, is being turned into a musical stage show. We will certainly be looking out for this in the future.
Written by April, Ali S, Jessica and Mohammed D
Michael Rosen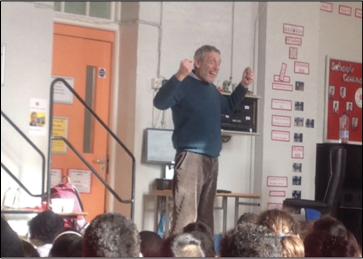 We were lucky enough to have the famous children's author, Michael Rosen, visit the Academy. It was a truly wonderful and memorable day, one which I am sure the children …. and staff will remember for many year to come.
We were all amazed at his ability to engage so many children effortlessly and to have everyone who watched him spellbound and laughing, whatever their age. It was a huge privilege to have him here.
And …. Or course we always celebrate world book day
The visiting authors Hiawyn Oram and Joe Craig were a great success. Jo Craig gave a talk to Years 5&6 and he was fantastic. He enthralled the children with his storytelling, incorporating their ideas into a story. This inspired many of the children to start writing their own books. Who knows, we may have a budding author of our own in the school?
How Parents Can Help
Parents have the ability to influence their child/children's attitude to reading and ensuring they have a positive attitude to reading. Talking about books and sharing them together can be an enjoyable and effective activity. We understand that many parents speak more than one language and at Gateway we think that regular practise and a focus on reading for pleasure is a skill everyone can give to their child. Reading with your child can take many forms and doesn't necessarily have to be limited to a particular genre or even language! Making sure your child has a quiet place to read is also important. At EYFS, KS1 and lower KS2, we ask for your support in filling out a home/reading record that indicates you have heard your child read. For upper KS2, the children complete reading diaries which gives them an opportunity to apply reading skills learnt in school.
Quality Texts
We believe giving children experience of quality books will not only enhance their literary skills but also inspire them to engage with books, develop a love of reading and create motivation to write.
Below is a wonderful and highly recommended list of '100 books to read before…' series created by Ashley Booth, a Year 6 Teacher in Liverpool.
You will find books suitable for all primary ages in the attachments below:
100 books to read in Key Stage 1
100 books to read in Years 3 and 4
100 books to read in Years 5 and 6