PE & Games
Curriculum Intent
At Gateway Academy we recognise the value of Physical Education (P.E). We fully adhere to the aims of the national curriculum for physical education to ensure that all pupils:
Develop competence to excel in a broad range of physical activities

Are physically active for sustained periods of time

Engage in competitive sports and activities

Lead healthy, active lives
We aim to give the children the fundamental skills that they will need and the ability to apply these skills to both individual and team games. We believe that not only should children have the physical skills but also the ability to be resilient, recognise their areas of development and take pride in their achievements. We want our children to have the opportunities to discover new interest and talents that enhance pupil cultural development.
We want children to:
Become skillful and intelligent performers

Acquire and develop skills, performing with increasing physical competence and confidence, in a range of physical activities and contexts

Learn how to select and apply skills, tactics and compositional ideas to suit activities that need different approaches and ways of thinking

Develop their ideas in a creative way

Set targets for themselves and compete against others, individually and as team members

Understand what it takes to persevere, succeed and acknowledge others' success

Respond to a variety of challenges in a range of physical contexts and environment

Take the initiative, lead activity and focus on improving aspects of their own performance

Discover their own aptitudes and preferences for different activities

Make informed decisions about the importance of exercise in their lives

Develop positive attitudes to participation in physical activity

Encourage enjoyment through physical activities

Provide through experience, knowledge and understanding about the relationship between health and physical education

Work with others, listening to their ideas and treating them with respect

Co-operate and collaborate with others, in teams and groups, to achieve a goal together

Develop an understanding of fair play and fairness though knowing and applying rules and conventions.
The Curriculum
Early Years Foundation Stage (EYFS)
We recognise the importance of physical development in the Early Years Foundation Stage as a key area of learning. There are two strands under Physical Development: Moving and Handling and Health and Self-care. We encourage the children to develop confidence and control of the way they move, and the way they handle tools and equipment. We give all children the opportunity to undertake activities that offer appropriate physical challenge, both indoors and outdoors, using a wide range of resources to support specific skills.
Key Stage 1 (Years 1 and 2)
Children are supported to develop fundamental movement skills. They are taught to:
Master basic movements including running, jumping, throwing and catching, as well as developing balance, agility and co-ordination, and begin to apply these in a range of activities

Participate in team games, developing simple tactics for attacking and defending

Perform dances using simple movement patterns.
Key Stage 2 (Years 3 to 6)
Children continue to apply and develop a broader range of skills, learning how to use them in different ways and to link them to make actions and sequences of movement. They enjoy communicating, collaborating and competing with each other. They develop an understanding of how to improve in different physical activities and sports and learn how to evaluate and recognise their own success.
Children are taught to:
Use running, jumping, throwing and catching in isolation and in combination

Play competitive games, modified where appropriate [for example, badminton, basketball, cricket, football, hockey, netball, rounders and tennis], and apply basic principles suitable for attacking and defending

Develop flexibility, strength, technique, control and balance [for example, through athletics and gymnastics]

Perform dances using a range of movement patterns

Take part in outdoor and adventurous activity challenges both individually and within a team

Compare their performances with previous ones and demonstrate improvement to achieve their personal best.
Swimming and water safety
At Key Stage 2 children are taught to:
Swim competently, confidently and proficiently over a distance of at least 25 metres

Use a range of strokes effectively

Perform safe self-rescue in different water-based situations.
The curriculum overview for the school is as follows:
Term 1

Term 2

Term 3

Term 4

Term 5

Term 6

Reception

Physical literacy

Balance and movement

Physical literacy

Rolling, sliding and slithering

Jumps – take offs and landings


Gymnastics

Jumping, sliding, rolling and moving over under and on apparatus


Dance

Simple movement patterns to music


Gymnastics

Lean and refine shapes, jumps, balances and rolls


Dance

Refine movement patterns to music


Year 1

Feet

Games for Understanding

Hands

Body Parts

Hands

Jumping

Wide, Narrow, Curled

Rainbow Fish

Skipping

Running

Jack and the Beanstalk

Team Building

Year 2

Feet

Games for Understanding

Team Building

Hands

Explorers

Dodging

Linking

Hands

Jumping

Skipping

Rackets, Bats and Balls

Team Building

Year 3

Netball

Witches and Wizards

Dodgeball

Tag Rugby

Wild Animals

Game, Sense Invasion

Symmetry & Asymmetry

Football

Athletics

Skipping

Rounders

Weather

Year 4

Netball

Bridges

Swimming

Netball

Mindfulness

Swimming

Space

Football

Swimming

Running

Football

Swimming

Skipping

Cricket

Swimming

Throwing and Jumping

Cricket

Swimming

Year 5

Counter Balance and Tension

Netball

Health Related Exercise

Basketball

The Circus

Football

Running

Dodgeball

Rounders

Skipping

Running and Jumping

Cricket

Year 6

Matching & Mirroring

Cricket

Health Related Exercise

Netball

Titanic

Football

Leadership Skills

Basketball

Skipping

Rounders

Competitions

Throwing and Catching
Recent Projects
Gateway Students take on cross-country!
24 Gateway students were selected to take part in a cross-country competition against many other schools in Westminster.
Year 3 and 4 students ran an impressive 1km and year 5 and 6 students ran 1.5km. All students performed very well and enjoyed cheering each other on!
Year 5 and 6 boys were awarded third place overall.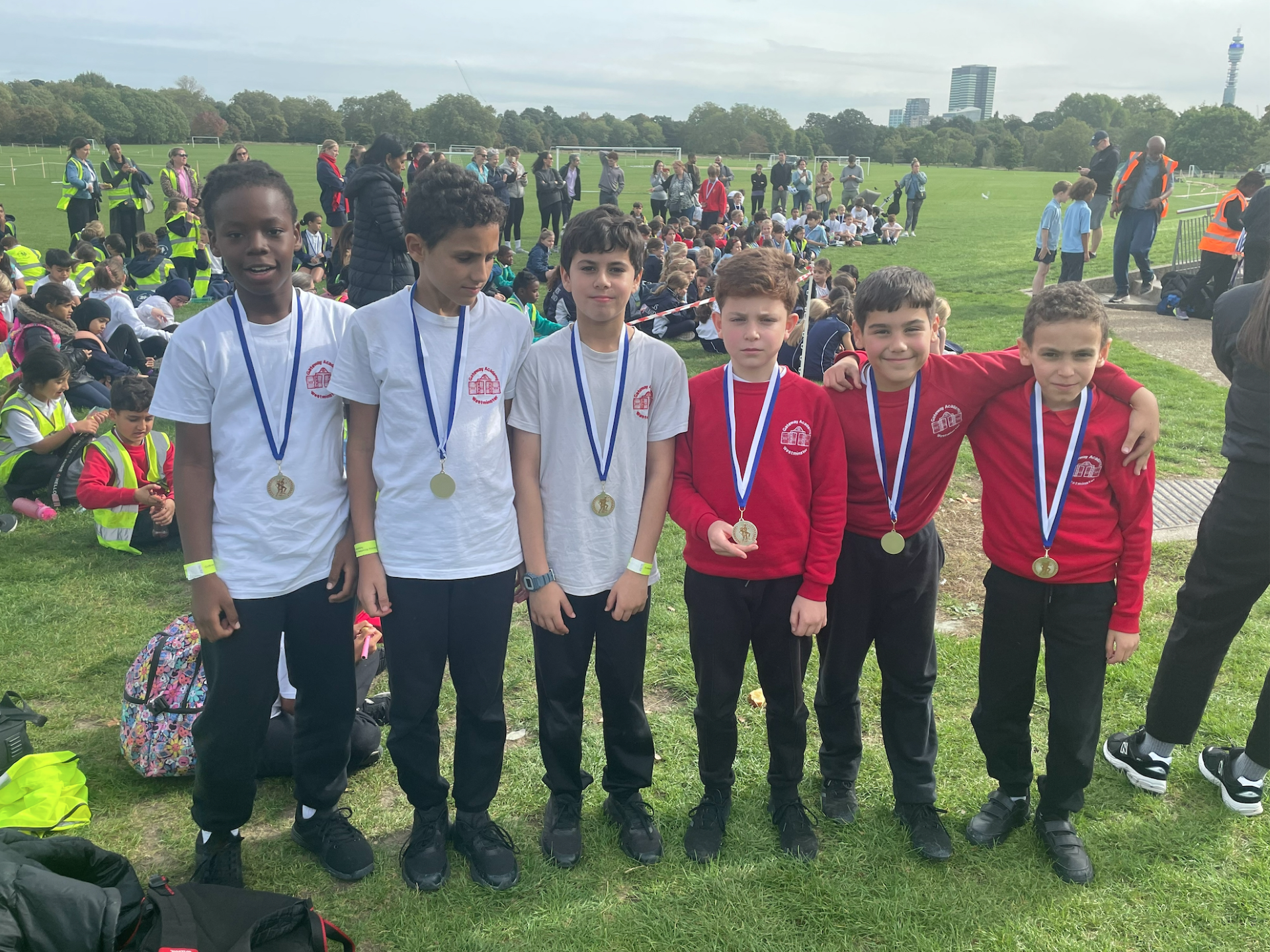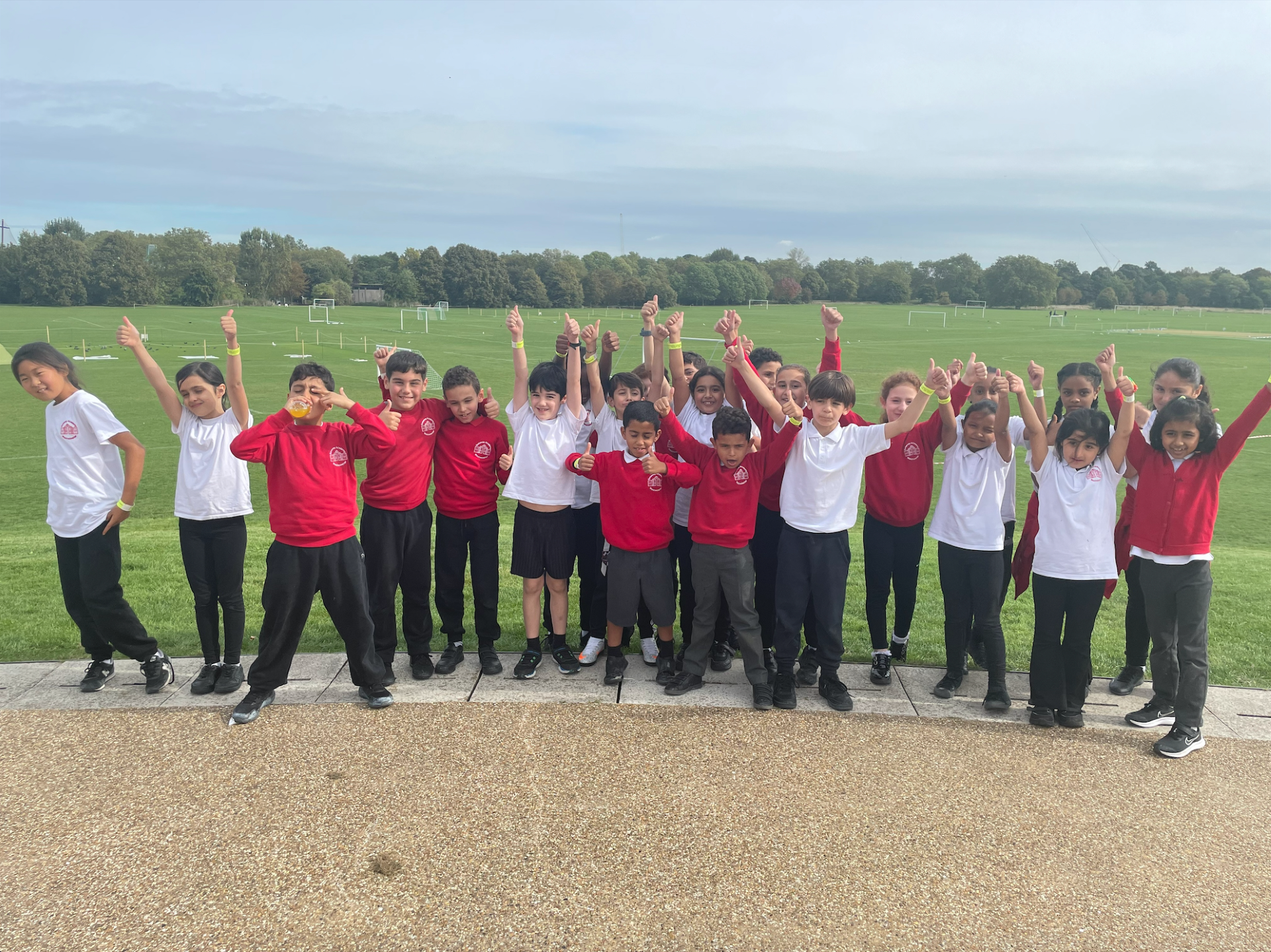 Gateway Students meet cricket legends!
Recently 18 lucky children were chosen to be filmed at Lords Cricket Ground as part of the All-Stars Cricket Program.
The footage taken will be shown across cricket grounds in England, on their website and possibly even television!
Children also had an opportunity to have a Q&A session with England and Middlesex cricketers. The children were able to collect the autographs of a number of cricketers.
A big thank you must go to Middlesex Cricket for choosing Gateway Academy. Well done everyone involved!
How Parents Can Help
To get the most out of indoor PE lessons it is important that the children wear appropriate clothing to allow a full range of movement. All children are expected to wear the correct PE kit to school on the day they have their PE and Games lesson. The correct kit is a white T-shirt and black shorts or track-suit pants. Parents can also help by trying to ensure that children have a healthy and balanced diet.
Parents should try to encourage children to engage in physical exercise out of school hours in order to maintain a basic level of fitness.
Further Support And Useful Weblinks
Club/Provider

Sport

Website

Contact Details/Sign Up/Find Out More

Serpentine Running Club

Athletics

London Basketball Association

Basketball

London Knights Basketball Club

Basketball

Safe Haven Basketball

Basketball (inclusive) 14 years and over

Stars Boxing Club

Boxing

Rathbone Boxing Club

Boxing

The Angels Academies

Cheerleading

Step Change studios

Dance (inclusive)

contact@stepchangestudios.com

Disability Sports Coach

Disability Multi-Sports

https://disabilitysportscoach.co.uk/community-clubs/club-westminster/

Hilal Rangers FC

Football

https://do-it.westminster.gov.uk/organisations/hilal-rangers-youth-football-club

https://www.facebook.com/profile.php?id=100057394991900&fref=photo

Little Kickers

Football

Football for 18months to 7 years old.

Type your postcode
into website to find closest class

Pro Touch Soccer Academy

Football

QPR in the Community

Football

Queen's Park Gardens Community Hub

Football

Sport London e Benfica FC

Football

London Tigers

Football / Multi sports

City of London Gymnastics

Gymnastics

Hampstead & Westminster Hockey Club

Hockey

Central London Lacrosse

Lacrosse

Britannia Shotokan

Martial Arts

Koryo Taekwondo Academy

Martial Arts

079 100 614 81

Greenhouse Sports

Multi-Sport

London Sports Trust

Multi-sport

02087351589 or email info@londonsportstrust.org

Step up 2 Fitness

Multi-sports

https://www.connectsport.co.uk/step-2-fitness

Parkour Generations

Parkour/Freerunning

Chelsea & Westminster Swim Club

Swimming

Seymour Synchro Swim School

Swimming

Polonia Ladies Volleyball Club

Volleyball

https://polonialadiesvolleyball.co.uk/polonia-sideout-juniors/

Westminster Volleyball Club Ltd

Volleyball