Music
Curriculum Intent
Music is the soundtrack to our lives, connecting us through people and place in our ever-changing world, bringing communities together through whole school singing, ensemble playing and listening to fellow students' performances. Music is one of the central building blocks of any culture and the shared knowledge of music is crucial cultural capital in understanding where we came from and our place in the world. We aim to provide an inclusive approach to this cultural capital through our curriculum to encourage pupils to be open minded in their listening as well as knowledgeable about the breadth of musical genres in the world today.
We base our music provision on the 2014 National Curriculum which aims to ensure that all pupils:
Perform, listen to, review and evaluate music

Be taught to sing, create and compose music

Understand and explore how music is created, produced and communicated.
We want children to:
Be able to perform, listen to, review and evaluate music across a range of historical periods, genres, styles and traditions, including the works of the great composers and musicians.

Sing and to use their voices, to create and compose music on their own and with others

learn a musical instrument.

Understand and explore how music is created, produced and communicated, understanding the technical terms: pitch, duration, dynamics, tempo, timbre, texture, structure and appropriate musical notations.
The Curriculum
At Gateway Academy, we aim to deliver a rich, progressive curriculum based on a number of approaches including Kodaly (Inside Music), online courses (Charanga, BBC 10 Pieces) and whole class instrumental tuition.
The curriculum ensures that students have the opportunity to sing, listen, play, perform and evaluate music. This is embedded into classroom music activities as well as the weekly singing assemblies, concerts and performances, learning of instruments and joining of a musical ensemble. At Gateway Academy, all class and instrumental teachers have access to a range of melodic instruments, including violins, recorders, djembes and glockenspiels as well as class percussion sets.
Early Years Foundation Stage (EYFS)
Key Stage 1 (Years 1 and 2)
Singing is at the heart of Key Stage 1, with songs and chants underpinning all areas of study as they follow the Kodaly method through the Inside Music scheme.
Children develop a strong internalised sense of pulse, rhythm and pitch through a rich range of musical interactions, including singing, moving, performing (using unpitched and pitched instruments), creating music and active listening. Pupils create music through improvisation linked to known literature or key themes. For example, year 1 pupils create a musical version of the picture book 'Peace at Last' and year 2 compose short melodies based on Saint-Saens' Carnival of the Animals.
Pupils build musical confidence through active engagement with music as performers, music-creators and audience. Our curriculum enables pupils to develop a love of music refining their individual taste with listening activities carefully planned to expose children to key musicians and composers in a range of genres and styles. For example, year 1 children listen to a variety of music from Africa such as Ladysmith Black Mambazo and Angelique Kidjo, whereas Year 2 learns about American Rock and Roll through listening to Elvis Presley and Chuck Berry.
Key Stage 2 (Years 3 to 6)
Building on the key foundations of Key Stage 1, our Key Stage 2 curriculum offers children the opportunity to develop other aspects of their music-making. In Lower KS2 (years 3 and 4) all children receive instrumental tuition in recorder and violin, with the option to continue with violin afterwards. They are exposed to the concept of the orchestra, alongside musical narratives such as Peter and The Wolf to develop understanding of the timbre of unique instruments.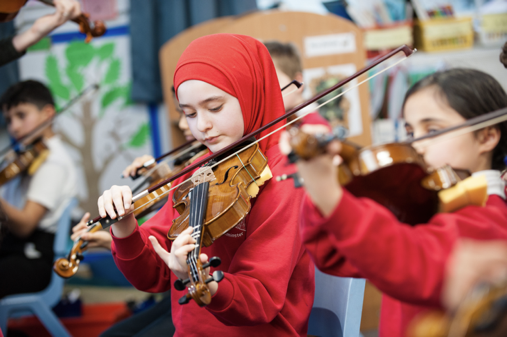 Moving into upper Key Stage 2, pupils begin to consider how music is layered and structured in order to develop a deeper understanding of musical composition. They continue to refine their individual taste, encountering music by a range of composers and developing an understanding of the evolution of musical genres.
The curriculum overview for the school is as follows:
Term 1

Term 2

Term 3

Term 4

Term 5

Term 6

Year 1

Inside Music:

Sounds around us

Inside Music:

African songs

Inside Music:

Body songs

Composing, choosing and arranging sounds: Peace at Last

Inside Music:

Jazz and Funk music

Charanga Big Bear Funk

Inside Music:

Songs of Spring

Composing, choosing and arranging sounds: Jack & the Beanstalk

Inside Music

Bright Lights, Big City

Transport

Year 2

Inside Music

Inside Music:

Rhythm works

Inside Music:

Dynamic and Tempo

Inside Music:

Pitch and Duration

Rock and Roll Music

Inside Music:

Introduction to stick notation

Western Classical Music:

Carnival of the Animals

Year 3

GROOVE'N'PLAY Recorder Course

Year 4

Whole class violin tuition:

Introduction to the violin

Whole class violin tuition:

Using the bow

Whole class violin tuition:

Fingers on Strings

Whole class violin tuition:

Whole class violin tuition:

Skills development and practice

Whole class violin tuition:

Concert performance practice

Year 5

Jazz:

Music of Black Origin

Space Sounds:

Holst's The Planets

(BBC 10 pieces)

Planet Earth: Film and TV Music

Year 6

Brazil and Samba:

Body Percussion:

Connect It (BBC 10 pieces)

Hip Hop and Rap:

Old School Hip Hop

Fresh Prince of Bel Air
Extracurricular Opportunities
There are a number of visiting specialist instrumental tutors who teach children in small groups and for which no fee is required. Where appropriate, children are entered for ABRSM Music Medals or ABRSM graded exams. There are weekly singing assemblies for each phase as well as a non-selective Infant and Junior Choir. Performances take place at least twice a year for all choirs and instrumental learners.
Recent Projects
Bach Choir
Gateway pupils perform with the Bach Choir
As part of our ongoing project with the world-famous Bach Choir, a group of Year 5 children performed alongside the choir at Cadogan Hall.
The evening was spectacular and the children's performance outstanding. Clearly all the hard work and practice paid off.
Rehearsals with Bach Choir
Gateway Choir

Gateway Choir were invited to sing at the turning on of the Church Street Christmas Lights. This is the first time they have done such an event and they did a wonderful job.
Thank you so much to all the parents who came to support!
KS2 Playing Days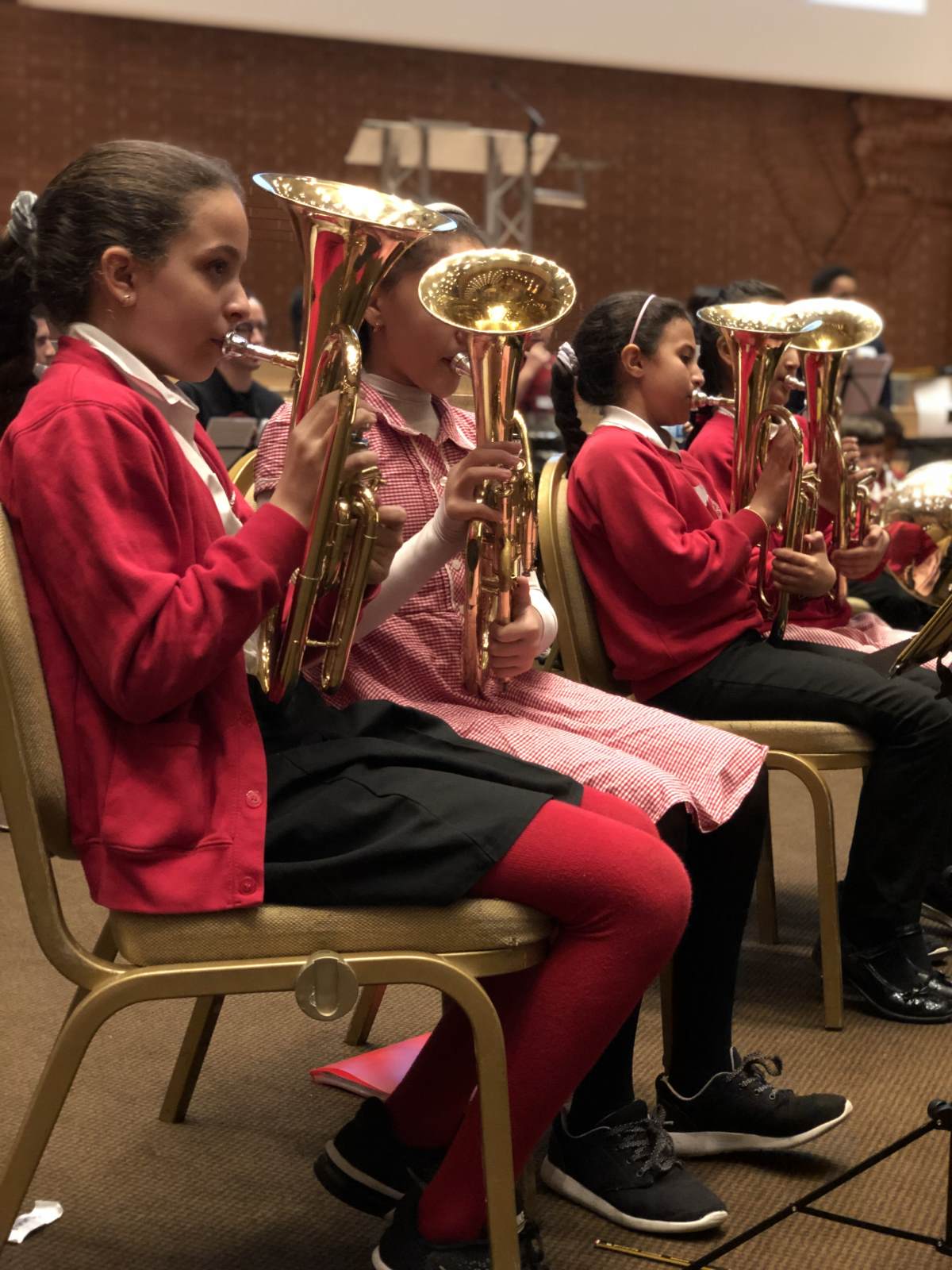 Our KS2 brass and violin players had wonderful outings to Kensington Town Hall where they played in orchestras of around 100 children selected from all over London.
They showed fantastic determination and cooperation, learning and performing three pieces in one day! The lead conductor was incredibly impressed by all the children from Gateway and commented on their amazing progress since last year's events. Well done everyone!
How Parents Can Help
Songs can be a great memory aid for learning and there are many nursery rhymes and educational songs you can sing with your child. If you have internet, youtube can be a great help to sing along to unfamiliar songs. Clapping rhythms or using body percussion is also a great way for children to learn and remember longer sequences, especially younger children.
If your child takes an instrument home, please encourage them to practise for 10 minutes every day and make sure you and your child know how to look after the instrument carefully as they are very delicate and expensive.
There are many opportunities for children to be involved in music within the community. If your child is interested in receiving alternative instrumental tuition, please refer to this website for more details. www.triboroughmusichub.org
Further Support And Useful Weblinks