Music
Curriculum Intent
Music is the soundtrack to our lives, connecting us through people and places in our ever-changing world, bringing communities together through whole school singing, playing together and listening to fellow students' performances.
Music is one of the central building blocks of any culture and a shared knowledge of music is crucial cultural capital in understanding where we came from and our place in the world.
We aim to provide an inclusive approach to this cultural capital through our curriculum to encourage pupils to be open minded in their listening as well as knowledgeable about the breadth of musical genres in the world today.
In line with the National Plan for Music (2022), by the end of their time at Gateway, we want pupils to be able to:
sing with accurate pitch in unison or harmony with attention to phrase and dynamics

play a simple melody on an instrument in an ensemble with an understanding of staff notation

create short phrases of new melodic music

demonstrate knowledge of music from a range of musical traditions

increasingly enjoy both their music lessons and taking part in the wider musical life of the school
The Curriculum
At Gateway Academy, we aim to deliver a rich, progressive curriculum using the Sing Up Music scheme of work, which ensures every child has access to high-quality, practical and engaging musical experiences.
Students have the opportunity to listen and appraise, sing and play, and improvise and compose music. This is embedded into classroom music activities as well as the wider musical life of the school.
Early Years Foundation Stage (EYFS)
In Reception, pupils begin to use their voices expressively and creatively by singing songs and speaking chants or rhymes. They are introduced to different musical instruments and a range of musical styles. Pupils begin to experiment with, create, select and combine sounds using the different dimensions of music, often to create a soundscape or tell a story as a whole class.
Key Stage 1 (Years 1 and 2)
In Year 1 and 2, pupils build on the understanding they gained in EYFS, continuing to learn a variety of songs, rhymes and chants, including pentatonic and call-and-response songs. They begin to understand the difference between rhythm and pitch, composing different patterns and using graphic notation to record their ideas. They are exposed to both tuned and untuned percussion instruments and perform copy-cat and improvised rhythms. Towards the end of Year 2, pupils are introduced to more complex musical ideas, such as basic notation and two/three time.
Key Stage 2 (Years 3 to 6)
In lower KS2, pupils sing a widening range of unison songs of different styles and structures, often including actions. Pupils are regularly invited to listen to recorded performances and to develop their understanding of the context of the music. Increasing opportunities are given to compose music through improvisation, using different structures or in response to different stimuli. At this stage, children are introduced to the stave and begin to learn how to read musical notation. Pupils begin to play and perform melodies following staff notation.
In upper KS2, pupils sing a broad range of songs, including those with syncopated rhythms, and learn how to sing in parts and in a round. Pupils are given greater opportunities to compose music with multiple sections and use music software or apps to create and record. Pupils continue to develop their knowledge of staff notation and learn to play a melody written on one stave. Year 5 children receive a year of whole-class instrumental tuition on the violin.
Here is our curriculum overview: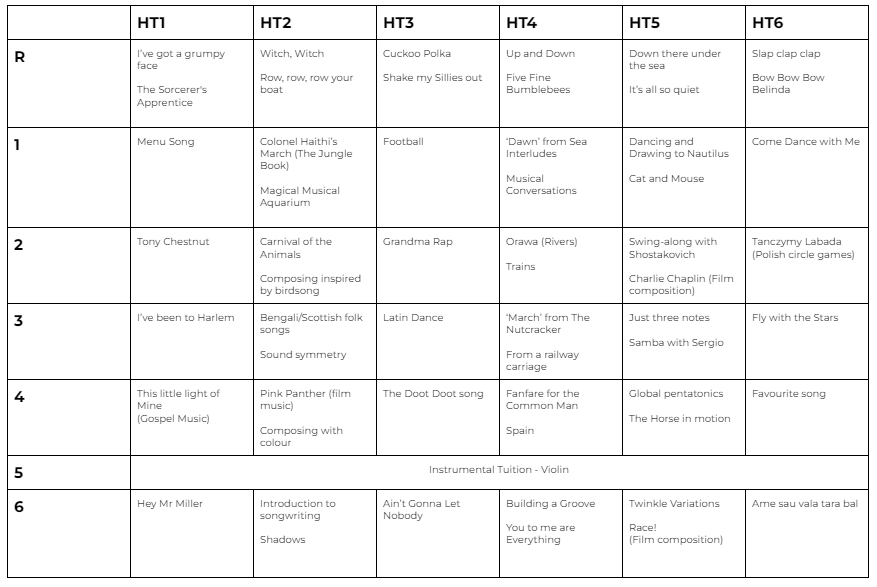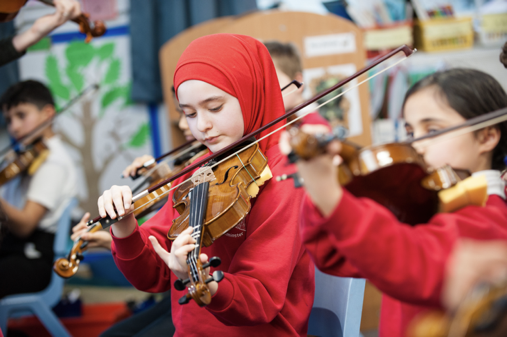 Extracurricular Opportunities
There are a number of visiting specialist instrumental tutors who teach children in small groups and for which no fee is required. Where appropriate, children are entered for ABRSM Music Medals or ABRSM graded exams. There are weekly singing assemblies for each phase as well as a non-selective Infant and Junior Choir. Performances take place at least twice a year for all choirs and instrumental learners.
Recent Projects
In the academic year 2022-23, Gateway Academy was chosen as one of the partner schools for Wigmore Hall.
Over the year, we were fortunate enough to receive a number of workshops for both children, teachers and parents, as well as attending a range of school concerts at Wigmore Hall.
Our Year 5 children participated in a series of workshops where they wrote a new school song "The Gateway Way". A number of Year 5 pupils performed their song at Wigmore Hall itself.
Bach Choir
Gateway pupils perform with the Bach Choir
As part of our ongoing project with the world-famous Bach Choir, a group of Year 5 children performed alongside the choir at Cadogan Hall.
The evening was spectacular and the children's performance outstanding. Clearly all the hard work and practice paid off.
Rehearsals with Bach Choir
Gateway Choir

Gateway Choir were invited to sing at the turning on of the Church Street Christmas Lights. This is the first time they have done such an event and they did a wonderful job.
Thank you so much to all the parents who came to support!
KS2 Playing Days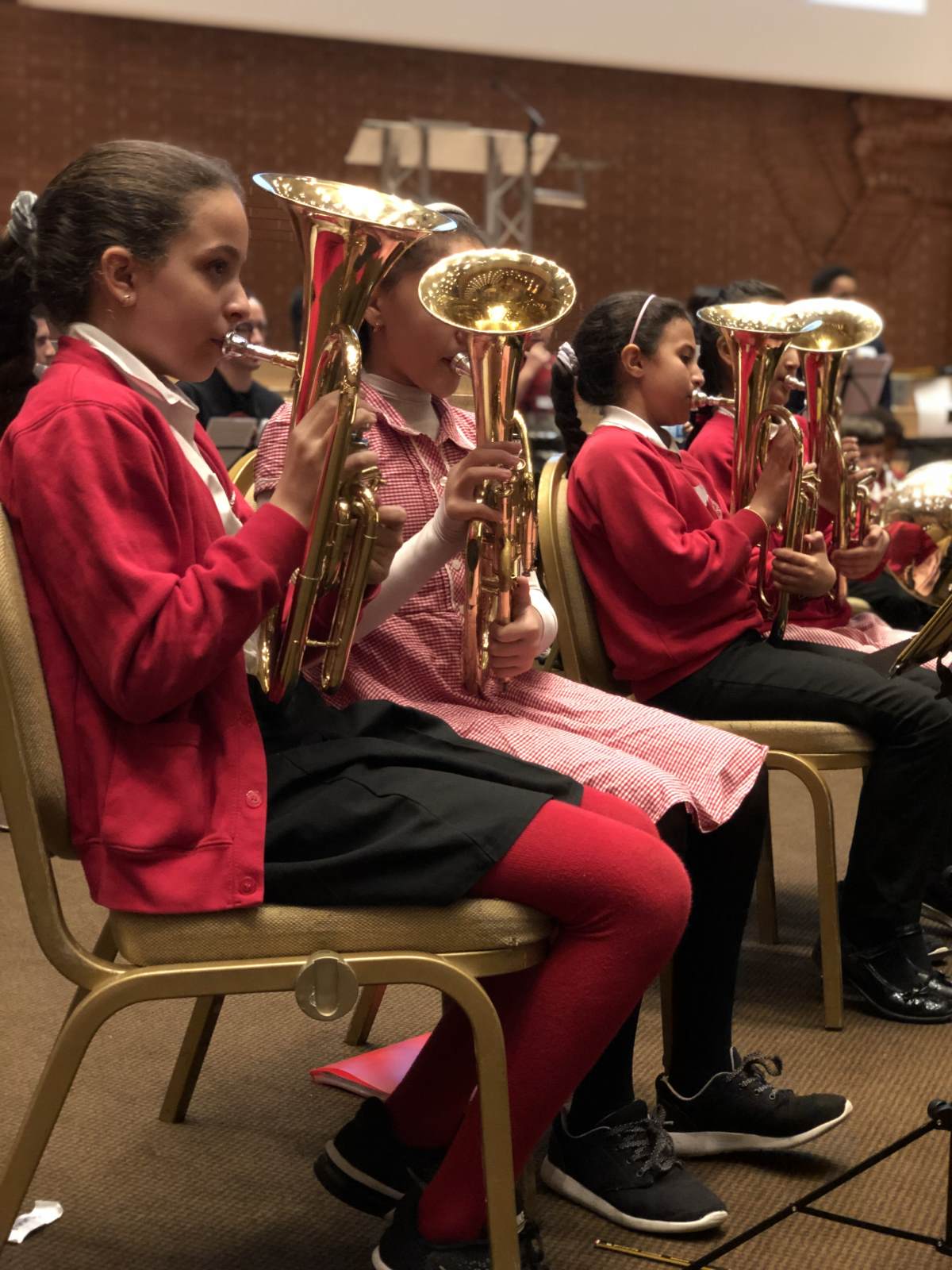 Our KS2 brass and violin players had wonderful outings to Kensington Town Hall where they played in orchestras of around 100 children selected from all over London.
They showed fantastic determination and cooperation, learning and performing three pieces in one day! The lead conductor was incredibly impressed by all the children from Gateway and commented on their amazing progress since last year's events. Well done everyone!
How Parents Can Help
Songs can be a great memory aid for learning and there are many nursery rhymes and educational songs you can sing with your child. If you have internet, youtube can be a great help to sing along to unfamiliar songs. Clapping rhythms or using body percussion is also a great way for children to learn and remember longer sequences, especially younger children.
If your child takes an instrument home, please encourage them to practise for 10 minutes every day and make sure you and your child know how to look after the instrument carefully as they are very delicate and expensive.
There are many opportunities for children to be involved in music within the community. If your child is interested in receiving alternative instrumental tuition, please refer to this website for more details. www.triboroughmusichub.org
Further Support And Useful Weblinks
Workshops and Concerts for Families at Wigmore Hall
EYFS/KS1:
Music activities to try at home from the BBC
KS1 Music videos and games from BBC Bitesize
KS2:
Experience the Orchestra with LSO
Find out more about some key musical pieces from BBC 10 Pieces