Curriculum Intent
At Gateway Academy, our aims are to fulfill the requirements of the 2014 National Curriculum for Art and Design: providing a broad and balanced curriculum and ensuring the progressive development of Art and Design concepts, knowledge and skills.
We believe that a strong Art and Design curriculum can help children to develop the skills that mean they are better prepared to thrive as individuals and citizens, and to succeed in the ever-changing future workplace. We have developed a well-constructed curriculum, adapted to our children's individual needs, with the intent to inspire and encourage them to enjoy learning Art and Design.
Art is embedded in a range of cross-curricular opportunities to support children to develop and deepen their knowledge. All our schemes of work are based on the Access Art curriculum. Our units of work build on progression of the key concepts and skills within the curriculum. This is presented in a whole school progression document.
Art and Design is taught weekly to ensure the implementation of the curriculum and a high-quality education for our children. All lesson plans are linked to the Art and Design assessment document and differentiated to ensure all learners are accessing the curriculum.
At Gateway, we work closely with a number visiting artists who give our pupils first-hand experience of the importance of Art, Craft and Design in the environment. Gateway has established relationships with a range of art galleries in London including: The Tate Modern, The Tate Britain, Royal Academy, Courtauld Gallery, National Gallery, The Serpentine Gallery and The National Portrait Gallery. We have collaborated with these Galleries to ensure visits, workshops and stand-alone schemes of work are embedded in our overview. We work with our local community with art projects or involve them in our own ventures. Art is celebrated throughout the school and displayed in classrooms, corridors and communal spaces.
We want children to:
Be positive and enthusiastic towards the study of Art and Design.

Develop oral and written communication and presentation skills.

Learn initiative, problem solving and organisational skills through Art.

Learn collaboration and teamwork.

Develop independent working, autonomy and creativity.

Gain a visual language with which to process the world around them and express themselves.

Gain cultural enrichment through Art.

Broaden their aspirations.

Bolster wellbeing through Art and Design.
To ensure the continuation and progression of skills, we have organised our learning into four key themes which are repeated across a range of units:
To produce creative artwork

To develop art skills

To learn about a range of artists

Enrichment experiences and wider opportunities in Art and Design
The Curriculum
Children are given opportunities to explore their ideas by experimenting, inventing and creating their own varied works of art using a range of materials. They will learn how to draw, paint, sculpt and explore other art, craft and design techniques.
Another important aspect of the art and design curriculum is learning about how art has shaped our history and how it reflects it.
Early Years Foundation Stage (EYFS)
Giving children opportunities to be imaginative, explore different materials and develop their ideas is an important part of the Early Years Foundation Stage, mainly within the 'expressive art and design' area of learning. Children are encouraged to practise their handling, moving and control skills (for example, by painting or using clay). Materials are accessible for children to develop and explore their ideas and to be imaginative.
Key stage 1 (Years 1 and 2)
The content of art and design teaching and learning is set out in the 2014 National Curriculum for primary schools in England. Pupils are given opportunities to use a range of materials creatively to design and make products through drawing, painting and sculpture. They explore different techniques in using colour, pattern, texture, line, shape, form and space.
Another important aspect of the art and design curriculum is learning about the work of a range of artists, craft makers and designers, describing the differences and similarities between different practices and disciplines, and making links to their own work.
Key stage 2 (Years 3 to 6)
The content of the art and design curriculum in Key Stage 2 builds on what children have learned in Key Stage 1. Children develop and improve their skills in drawing, painting and sculpture using a range of different materials. They are expected to create sketch books to record their learning and to use them to review and revisit ideas. They continue to learn about great artists, architects and designers in history.
Recent Projects and Collaborations
Young London Print Prize
In 2023, children in Year 5 took part in a workshop with artist educators from the Woolwich Print Fair. Children responded to the topic of climate change through print and drawing. Their finished pieces were entered into a competition and one winner had their print displayed at the Woolwich Print Fair.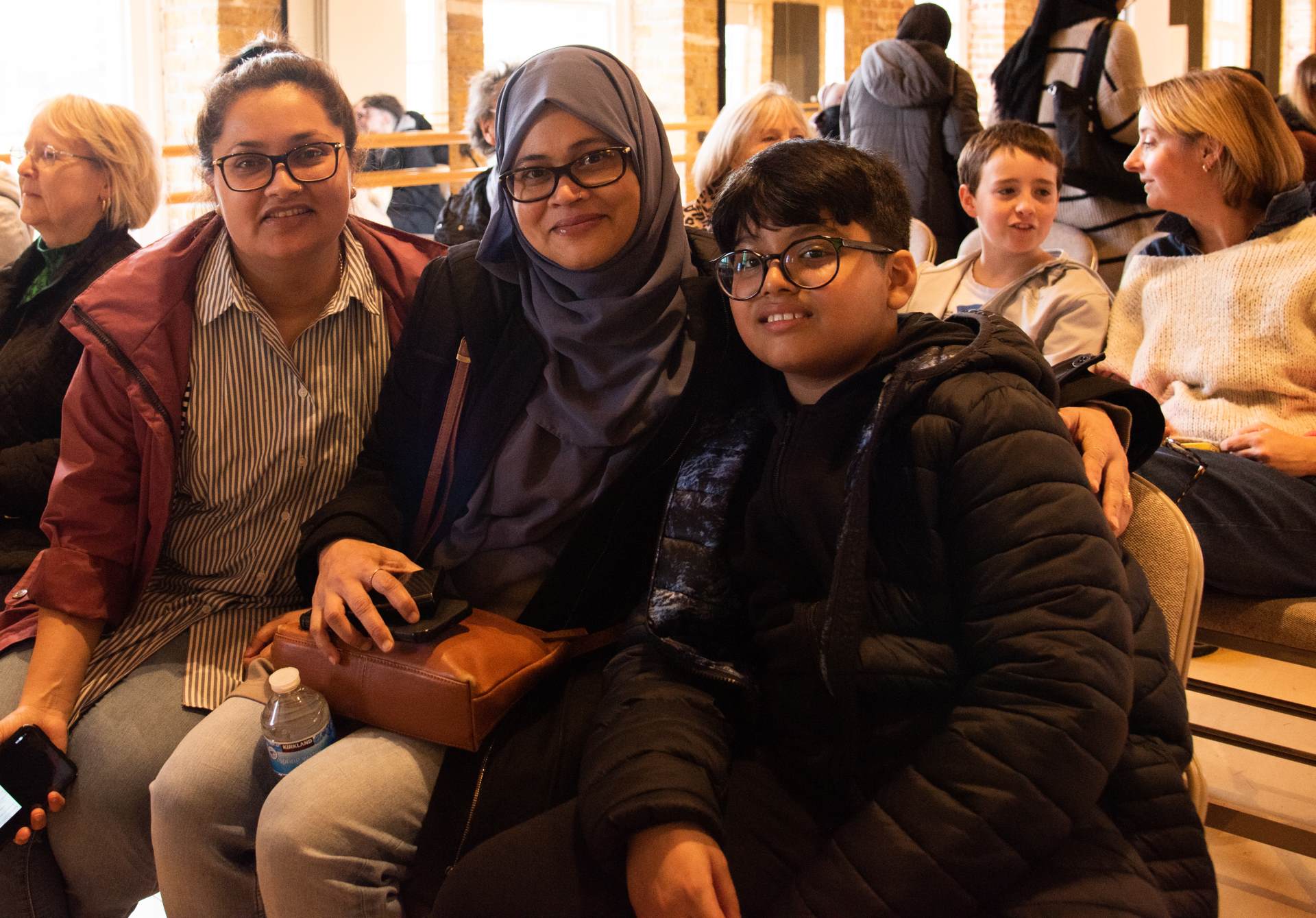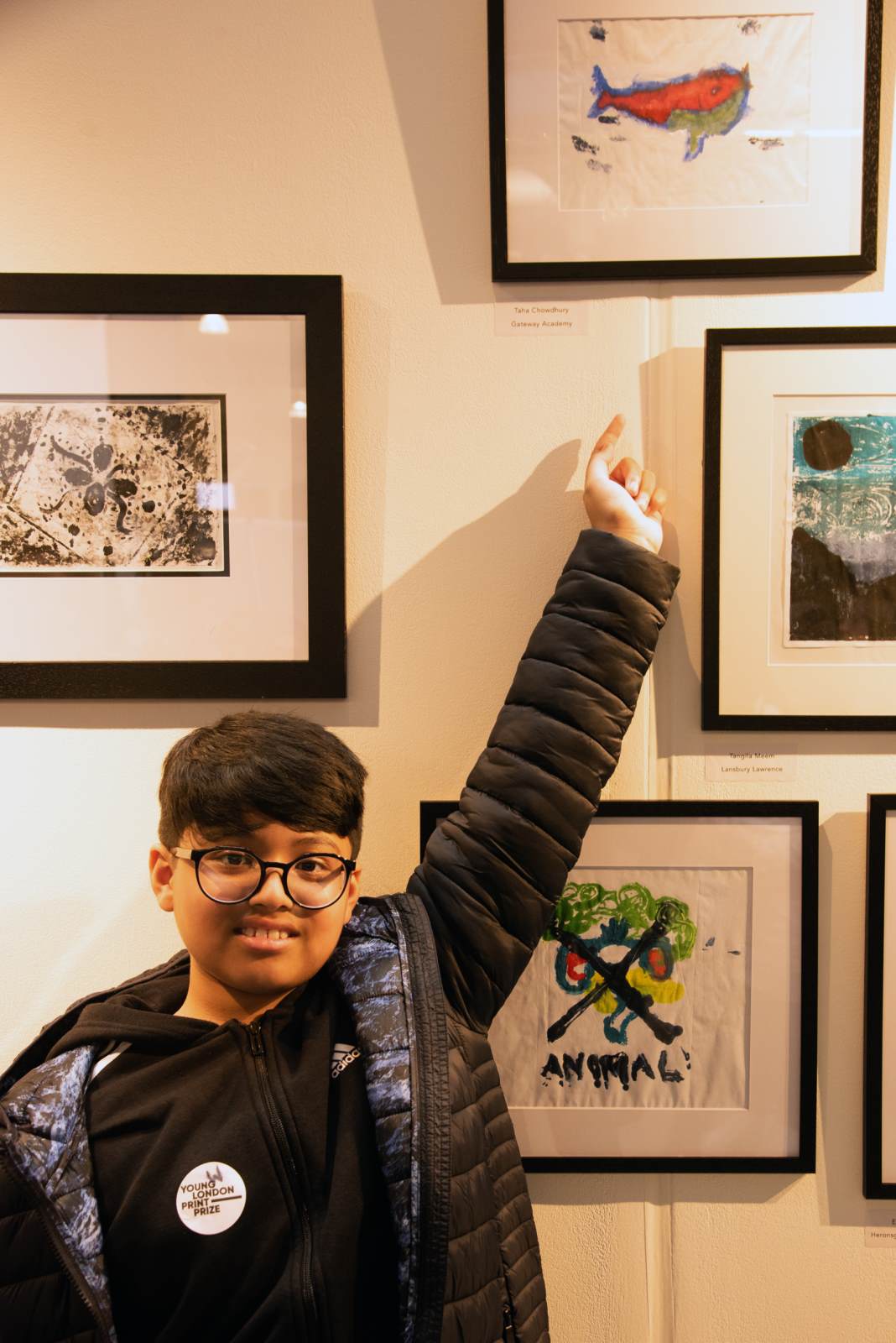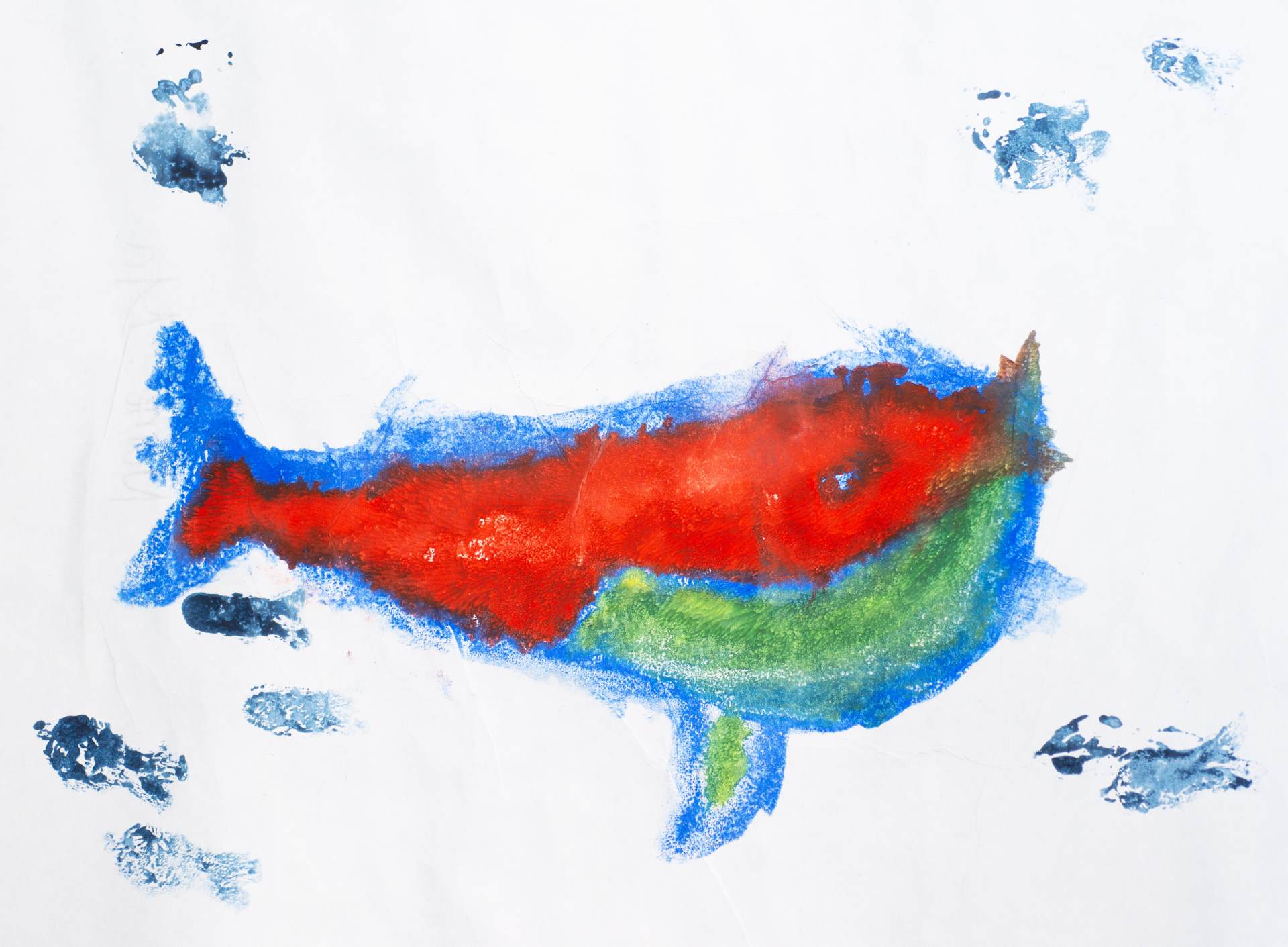 The Royal Academy of Arts - Exhibit in the Young Artists Show
In the summer term of 2022 Art Club, the children made pieces to enter into the Royal Academy's annual Young Artists' Show. After returning to school from lockdown and thinking about the experiences we have all shared during the COVID -19 pandemic, we chose a theme of hope to inspire us. Over 21,000 entries were made from schools all over the country and we are very proud that one of your artists has been chosen for exhibition at the gallery.
Youssef painted a self-portrait titled 'Old Youssef, Next Year', which the judges have awarded a place on the wall amongst some of the UK's leading young artists. The Young Artists' Summer Show will be open at the Royal Academy in the summer.
Alicia Reyes McNamara & Gateway Academy, Tongue Ties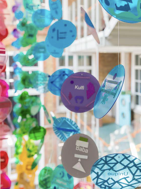 Over the course of a year, Alicia Reyes McNamara collaborated with Gateway Academy and the Family Learning Involvement Project (FLIP).
Tongue Ties is a collective celebration of knowledge, language and cultures. Pupils took part in workshops which promoted a positive approach to the development of bilingualism. Every child in the school was invited to choose and share a word, which became their contribution to the artwork.
Responding to the culture of the school, the project also draws on Alicia's own lived experience growing up in a Mexican household in Chicago.
Tongue Ties has been produced by The Showroom as part of their Communal Knowledge programme of collaborative projects. Communal Knowledge invites artists and designers to work with community groups, organisations, schools and individuals from The Showroom's neighbourhood towards collective, creative outcomes. Communal Knowledge is generously supported by John Lyon's Charity.
Art Workshop with the Royal Academy
Children from year 2, 3, 4 and 5 were able to participate in an art workshop with the Royal Academy.
They analysed a range of artworks and used them to influence their own work. They created mixed media compositions on giant boards and collated them together to produce a final piece as a group. They made these by rolling paint, drawing, and painting, sticking stickers, pouring glitter and sticking photos of themselves on a giant board. It was such a wonderful day and beautiful work was produced by everyone.
Year 4 visit the Serpentine and meet artist Faith Ringgold
Year 4 were given the amazing opportunity to visit the Faith Ringgold exhibition at the Serpentine Gallery. Not only was Gateway the only school invited, but Gateway also met the artist herself. Year 4 asked intuitive questions and left inspired by Faith's answers. After exploring her work with quick sketches, Year 4 sat and listened to one of Faith's children's books that she wrote and illustrated called 'Tar Beach'. There is a chance that Gateway will be featured in the documentary made about her on the BBC series Imagine, so watch this space! Well done Year 4!
How Parents Can Help
1. Get messy!
Try to get hold of as many different types of drawing and painting resources as you can to let your child get creative and explore creating art using different materials. Paints, chalk, crayons, pens, pencils, modelling clay and much more can be found in discount shops. Just don't forget to put lots of newspaper down first!
2. Use household objects creatively
Alternatively, instead of buying materials, let them get creative using things around the house – for example, pasta and pulses to create pictures using glue.
3. Keep a sketch book
Encourage your child to keep a sketch book. Suggest that they take it with them when they go out so that they can look for things to sketch – a tree, a building, a scene. Alternatively, if they see something they would like to draw, take a photo on your phone and let them sketch from it when they are home.
4. Celebrate your child's art
Praise your child's creations and encourage them not to get disheartened if they feel they have made 'mistakes'. Explain that art is about being creative and trying out different things. There is no right or wrong way to do things. You could even 'frame' their work using coloured paper or card and create a little gallery on the kitchen wall or in their bedroom to display their work.
5. Discuss and enjoy art together
Find out about local art galleries or museums that you can visit with your child. Encourage them to talk about what they see and to share their opinions – about subject matter, colours, what materials the artist used, and so on.
See below the links to the galleries we work with:
https://courtauld.ac.uk/gallery
http://www.tate.org.uk/visit/tate-modern
https://www.nationalgallery.org.uk/
Further Support And Useful Websites
Children's books for budding artists and writers
Lots of ideas for books about art and creativity.