Music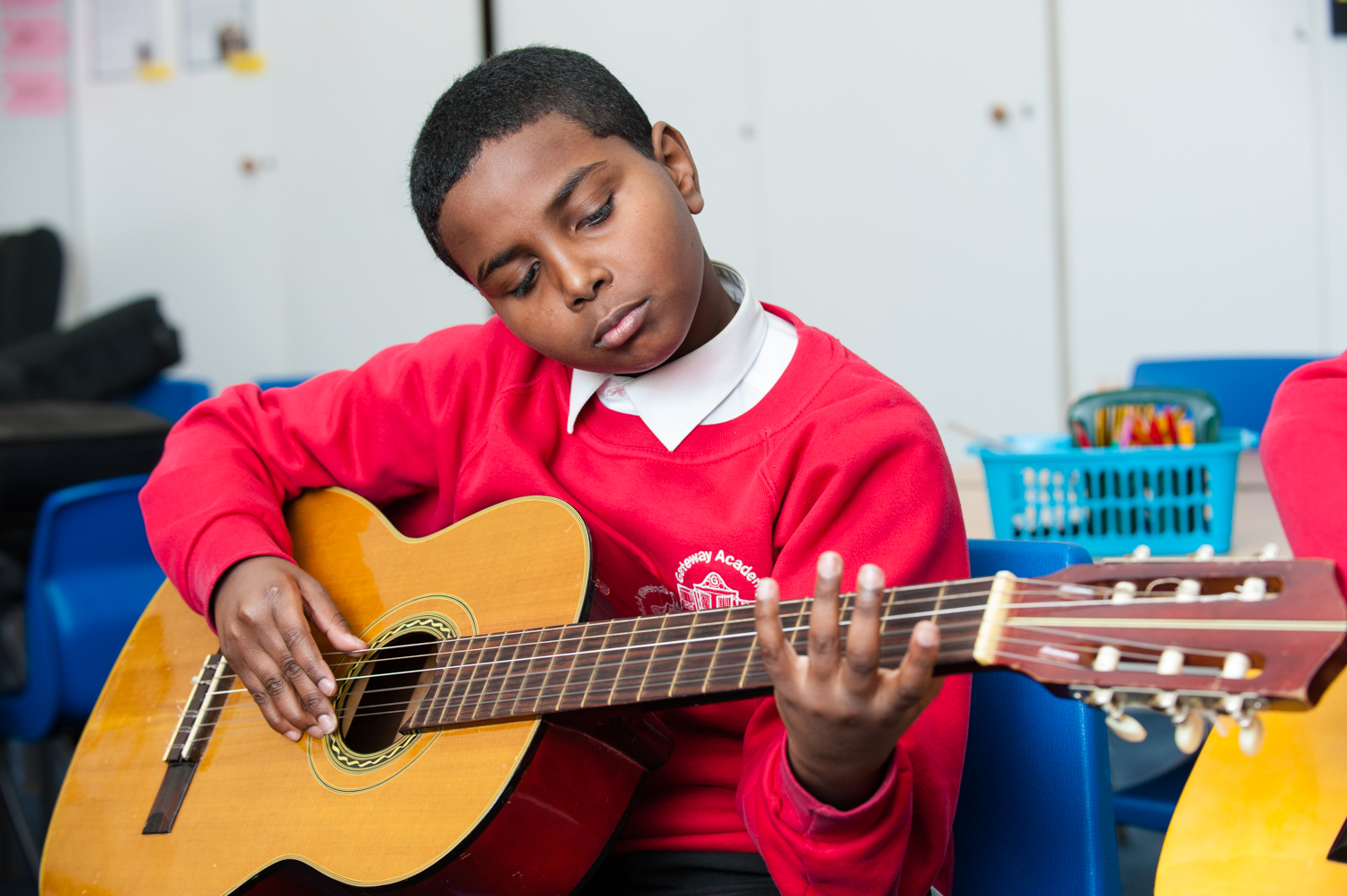 During the primary phase, pupils are taught the knowledge, skills and understanding of music through a range of musical activities that integrate performing, composing and appraising. Music can be used as a powerful tool to build pupils' self-esteem, encourage social interaction, aid long-term memory and with strong links to maths and language, music can effectively support pupils' progress in core subjects.
In the Early Years, singing, playing and exploring pitch, rhythm and dynamics is part of the daily routine. In Key Stage 1 and 2, Music is taught weekly as part of the national curriculum. In Key Stage 2, all children will learn to play one or more instruments as part of a whole-class teaching approach. All children from Reception to Year 6 take part in a weekly singing assembly which involves learning different types of lively and exciting songs from memory. There are a number of visiting instrumental teachers who teach various brass instruments, guitar, cello and violin. Gateway Academy has both an infant and a junior choir. Children meet weekly to practise songs and perform once a term in an assembly. Professional musicians often work with Gateway Academy to allow children to experience and appreciate a wider range of musical genres. This has included visiting string quartets, brass ensembles, African drumming, singing specialist and samba groups. Projects have also included working with the Wigmore Hall and The Royal Albert Hall.
Most classes from Year 1 to Year 6 follow the Music Express scheme of work. This involves children listening carefully and responding physically and emotionally to a wide range of music. They play musical instruments and sing a variety of songs from memory and create short compositions, with increasing confidence, imagination and control. They explore and enjoy how sounds and silence can create different moods and effects. They work on their own and in groups to improvise and develop their own musical compositions. In year 3, children take part in whole-class recorder lessons and are introduced to reading musical notation. In year 4 children take part in whole-class violin lessons, taught by a professional musician.
How parents can help
Songs can be a great memory aid for learning and there are many nursery rhymes and educational songs you can sing with your child. If you have internet, youtube can be a great help to sing along to unfamiliar songs. Clapping rhythms or using body percussion is also a great way for children to learn and remember longer sequences, especially younger children.
If your child takes an instrument home, please encourage them to practise for 10 minutes every day and make sure you and your child know how to look after the instrument carefully as they are very delicate and expensive.
There are many opportunities for children to be involved in music within the community. If your child is interested in receiving alternative instrumental tuition please refer to this website for more details. www.triboroughmusichub.org